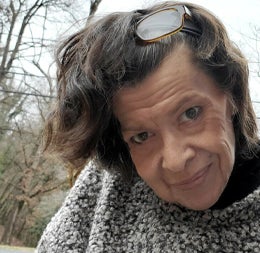 Zoyia Modikia Trivinia Hernandez
1958 - 2021
Zoyia Modikia Trivinia Hernandez would like for us to announce her change of address. Because she put her trust in Jesus, her new place of residence became Heaven after she finished her courageous battle with cancer on August 9, 2021.
Zoyia, 63, was born April 14, 1958, in Marion, Indiana to José A. F. Hernandez and Lynn M. Vogel, spent her growing-up years with the loving nuns at Saint Vincent Villa in Fort Wayne, Indiana; in the home of Jerry and Lu "Mom and Dad" Cassel, and her young adult years with mother Lynn M. Vogel. Her spiritual birthday came about at a tent revival meeting in Highland, Indiana (attending with Frank and Nancy "Mom and Dad" Hartwig) when she put her faith in Jesus Christ. She also attended Greentree Baptist Church of Winston-Salem and became the resident floral designer, filling Sundays and church events with bloom and color and her own singular artistry.
Zoyia loved history, politics, and biography. She enjoyed gardening, cooking, and creative art of many kinds, including drawing, painting, and pottery. Her lifelong passion was floral design, at which she was active for many years. Her favorite actor was Marilyn Monroe, and she was often arranging to have others send her postcards of Marilyn from all over the U. S. Zoyia was a determined and hard worker, serving in various retail and clerical positions as well as Roses 'N' More, a flower shop in which she honed her skills in floral design.
Her battle with cancer was not one marked by defeat. It was during this journey with her illness that she blossomed in her spirit and often expressed thankfulness for the cancer as a vehicle of her growth and expansion of her nature. But she never stopped being a firecracker. Five feet tall and tiny, she possessed a huge personality and direct manner of connecting with people. She had a way of disarming others with her frankness and drawing them to open up and tell their own stories. Full of complexity and contradiction, Zoyia was both beautifully sweet and saucy, temper-prone and instantly forgiving, deeply generous to those in need and unhesitatingly bossy. She possessed an offbeat, often dark humor and loved all things Halloween. On her voicemail message she described herself as "riding around on my broom, picking flowers!" And every time October 31 rolled around, friends and neighbors would see Zoyia showing up dressed as a witch, puttering about, sharing silly Halloween jokes. Beloved and unforgettable, she loved making and keeping friends everywhere she went.
Although she had giant obstacles to overcome in her life, she found her source of grace and forgiveness in Jesus Christ and she never gave up, no matter how many times she fell. She found a passion to tell those she met about the love of Christ, asking wide-eyed and without any lead-in, "Do you believe in Jesus?" And she got away with it. Throughout her illness, all the way to the end of her time on earth, she worked and lived and loved as fiercely as she could and took joy in her garden and art and all the people and little things around her. We are comforted to know that her last days and moments were marked by love, peace, and a gentle joy.
Those who proceeded in going Home before her were her loving son Dylan Scott Hartwig; biological father José A. F. Hernandez, whom she finally gets to meet; biological mother Lynn M. Vogel, foster father Jerry Cassel, who raised her with loving hands; and Frank Hartwig, whom she loved as a dad. She is survived by beloved son Cody Forrest Bissette; loving mothers Lu Cassel and Nancy Hartwig whom she cherished as moms; siblings Hope Hernandez Jeffers of Indiana (John), Marco Alexzandra of Michigan (Jeff), Greg Cassel of Indiana (Debbie), Cruz Maria Zahran of California, Dawn Osborne of Ohio (Michael), Jeff Cassel of Indiana (Lisa), Kimberly Miller of Indiana (Gary), Jamie Conner of Florida, Joey Malone of Texas, Tony Cassel of Indiana (Jenny), and Tonya Hernandez of Texas; four grandchildren: Rachael Hartwig, Amanda, Jacob, and Kaleb; a host of nieces and nephews; cherished friends; and her adored cats Buddy and Fang.
Special appreciation is due to the amazing staff and volunteers at Forsyth Cancer Center, Trellis Supportive Care, and Mountain Valley Hospice during Zoyia's cancer journey. Zoyia felt completely loved and championed while in their care.
A Homegoing Celebration luncheon will be held at GreenTree Church and Community Center at 930 Broad Street, Winston-Salem NC 27101 on Sunday, August 22 at 1:00p.m. with Pastor Tim Gross and Dr. Joseph Jones officiating. There will also be Zoom access provided. Those who would like to attend via Zoom may send an email to Tim Gross at greentreecenter@gmail.com to be set up with a link. Zoyia would like for everyone attending to come dressed as they want without the obligation to wear black. She loved joy and color. This gathering will be a cozy time of eating together, sharing stories, laughing, and crying as we celebrate Zoyia's life, triumph, and her new home in Heaven.