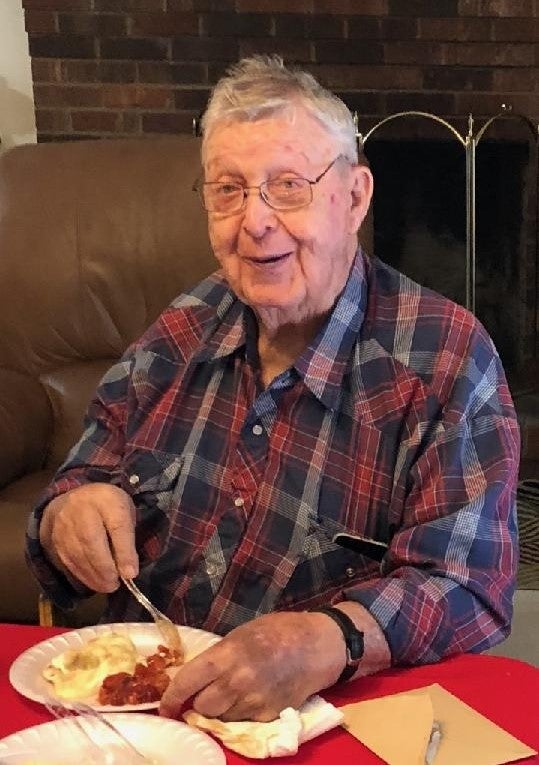 William Lee Stewart
1927 - 2022
William Lee Stewart, better known as "Bill" was surrounded by his family when he went home to be with our Lord on February 25, 2022.
A Memorial Service will be 3:00PM Sunday, March 6, 2022 in the Prayer Garden of Trinity United Methodist Church, 3819 Country Club Rd. Winston-Salem, NC.
Bill was born February 2, 1927 in Guilford County, NC to the late Nona Ridge Stewart and Wilbur "Bud" Stewart.
He served his country in the US Navy during WWII. He was a retired brick layer with over 50 years of service. He was a lifetime member of the Brick Mason Association. He was a member of Trinity UMC, active in the choir as well as the Sunday School Superintendent. Following his second marriage, he transferred his church membership to Burkhead UMC.
In his younger years, he loved camping trips with family and friends, fishing and hunting.
Those left to cherish his memory include his wife, Elaine Stewart; daughters, Carolyn Hamby and Joan Lincoln; Betty Crews, who was like a daughter; two wonderful grandchildren, Jason Lincoln and wife, Susanne and Jeffery Lincoln; four beautiful great-grandchildren, Riley, Kendal, Asa and Haven; and we can't forget his cat, JR.
Bill was an amazing husband, father, and Paw-Paw. He loved all his family dearly and we will all miss him and his sense of humor.
The family would like to express their thanks to the team members of Fire Station #14 and the caring staff of Trellis Hospice Care.
In lieu of flowers, the family requests that donations be made to Fire Station #14, 5754 Shattalon Dr. Winston-Salem, NC 27105 or Trellis Supportive Care, 101 Hospice Lane, Winston-Salem, NC 27103.