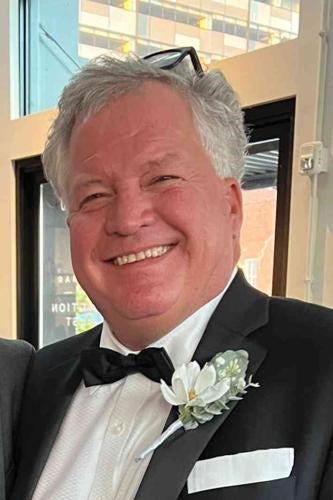 Timothy Austin Jackson
1963 - 2023
Timothy Austin Jackson December 1, 1963 – April 20, 2023 Timothy Austin Jackson, aged 59, passed peacefully in his home after a brief period of declining health. He was surrounded by family, friends, and his beloved yellow lab, Benelli.
Tim was born and raised in Charlotte, North Carolina. As a small child, he briefly lived in Morocco with his mom and adopted father, David. In 1976, the family moved to Isle of Palms, SC where he adapted to island living. He loved to surf, fish and skateboard with his chocolate lab, Bo.Tim's favorite job on the island was teaching windsurfing lessons at the beach, partly because he held a captive audience out on the water to listen to his many tales. He graduated from Clemson University where he earned his BS in Financial Management and met his wife of 36 years during their junior year at Clemson. Early in their relationship and their life as a young married couple, they enjoyed spending time together on his beloved Isle of Palms and in Charleston SC – shrimping and fishing in the marsh, swimming in the intercoastal with Bo, and exploring the Holy City with its open air market.
Upon graduation from Clemson, the couple moved to Winston Salem, NC where Tim began his career at Wachovia Bank in the bond department – many of his coworkers became lifelong friends. While at Wachovia, he was named the #1 underwriter in the Southeast 10 years in a row and was featured on the cover and in an "Underwriters Profile" of The Bond Buyer in September 1998. In 1992, he graduated from the Wake Forest University Babcock Graduate School of Management, thanks in large part to his grandfather, Frank Timberlake's, encouragement and support. His outgoing personality was quickly noticed by the dean who asked Tim to mentor a foreign student from Russia, Igor. Despite their cultural differences, they developed a deep friendship, and Igor honored Tim by naming his first born son after him. After leaving Wachovia, he enjoyed a long and successful career in municipal underwriting and trading at Legg Mason as well as RW Baird. He became known as an expert on difficult bond deals; his public finance bankers trusted his instincts to price deals and get them to market.
Despite his success and accolades, Tim's greatest accomplishment was his family. Prior to his son being born, as the dad of two girls, Amanda and Anna Drew, he became adept at painting fingernails and combing hair into ponytails. He super glued Barbie shoes onto the feet of many Barbies, his solution to the chaos those little pieces of plastic caused. Once his son, Austin was born, he had someone to share his love of hunting, fishing and attending music festivals. They regularly went to Merle Fest together, always camping in the same spot on the Yadkin River. Most recently, the two of them took their labs, Benelli and Roddy, on a duck hunting trip to the Outer Banks. He loved nothing more than bringing people from all walks of life together for an oyster roast and backyard fire pit get together which usually involved live music. He was the first one to show up with a home cooked meal for someone in need and embodied the true definition of friendship which was reciprocated by the many visitors he had to the hospital and to his home in his final days. He served on the Recreation and Day School committees at Calvary Baptist Church where his children attended the Day School and co-led the Newly/Nearly Married Sunday Fellowship Class for many years.
In addition to his wife, Kim, he is survived by three adult children: Amanda Jackson (partner, Kells Shaugnessy, who was able to secure Tim's blessing to marry Amanda in the hospital) of West Palm Beach, Florida, Anna Drew Touloupas (husband, Michael) of Greensboro, NC and Austin Jackson (wife, Katie Gray) of Raleigh, NC. Also surviving Tim are his parents, Kay B. Wensel and David A Jackson, birth father, Barry Timberlake with whom he had reconnected in recent years, step-sister Jenny (husband, Bobby) of Cape Charles, Va, mother in law, Brenda Vinson, brother and sister in law, Richard and Susan Romine and nieces, Olivia and Allie Romine. The family wishes to thank the staff of Novant Health Forsyth Medical Center for their excellent care, especially Dr David Tarter who humbly and gently cared for Tim and his family during his difficult hospitalization. A memorial service will be held at Calvary Baptist Church on Friday, April 28 at 3:30 pm; family will receive friends in the sanctuary starting at 2 pm. The family requests that memorials be made to Calvary Day School Attn: Development Office 134 S. Peace Haven Rd Winston Salem NC 27104.