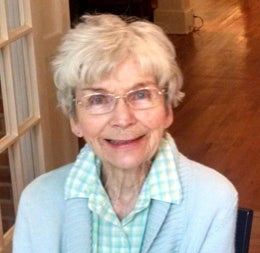 Mary Patricia Murdoch
1928 - 2021
Mary Patricia Murdoch, 93, passed away on Monday, May 10, 2021 in Winston-Salem, North Carolina. She was preceded in death by her husband of nearly 56 years, Donald Rankin Murdoch. Survivors include her three children, Jim Murdoch (Eileen Strauss), Donna Murdoch, and Laura Brown (Lynn), five grandchildren, Kyle, Gill, Katie, Amy, and Bryan, and three great-grandchildren.
Pat was born in Staten Island but grew up primarily in Chicago. She graduated from North Park Teachers College, got her master's degree from St. Francis College in Fort Wayne, Indiana, and taught elementary school. After a life spent in the Midwest — Illinois, Indiana, and Ohio — she and Don relocated to Southern Pines NC in 1999. She later moved to Salemtowne in Winston-Salem in 2018. The care that she received there is much appreciated.
Her loves included beagles, the Chicago Cubs, and her family. She also enjoyed reading, gardening, golf, bridge, and bowling. Pat was a courageous, caring soul and a spirited force of nature. She will be remembered and missed.
A memorial service to celebrate her life is planned for a later date. In lieu of flowers, please contribute to your favorite pet or animal charity.