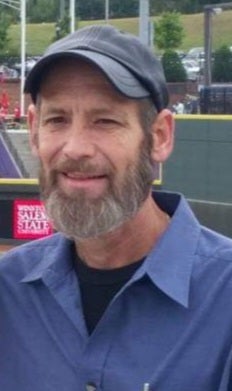 Mark Douglas Vaughn
1961 - 2022
MARK DOUGLAS VAUGHN
JULY 31 1961 TO APRIL 11 2022
Mark Douglas Vaughn was born July 31 1961 and gained his wings April 11 2022 while he was
surrounded by his family after his long battle with COPD. Mark was born to Harvey and Wanda.
Mark was always a hard worker of many talents and very humble. He was a loving, caring man
and did anything for anyone. Mark always thought his uncle James and Aunt Francis changed
his life and had the utmost respect for them, also where he and Mike Ball grew closer, more like
brothers than cousins. Mark's number one thing outside of love and his family was his guitar and
music. He honed that talent to greatness. The way he handled a guitar was magical, all was self
taught by ear. Mark also had a talent for photography. While at Tanglewood he met Alicia
Donnelle Jones and was also her bus driver and she would soon become his wife of 40 plus
years. Together they made many memories, They had one child born November 1 1983 Justin
Douglas Vaughn. Who is just like his dad. Mark had many memories growing up with his sister
Kaye and half brother Audie. One of the brightest moments of his life was being called papi by
his grandchildren Julius, Jazlyn, Jayden, Braxton which he loved dearly.
Mark's celebration of life will be held at Union United Methodist Church in Lewisville on Saturday
April 23 2022 at 2:00 p.m. Come in casual attire to celebrate the life of Mark Douglas Vaughn.