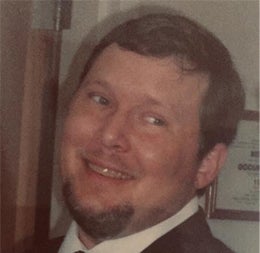 Eric went to be with our Lord and Savior on Sunday, July 25, 2021. Eric fought a 44-year battle with Type-1 Diabetes, a disease that unfortunately took his life in the wee hours of the past Sunday.
Eric was the eldest son of Connie Joe and Brenda Adkins Spencer born on November 4, 1972 in Guilford County, NC.
Eric loved most his brothers, Daniel and David. They shared many memories of times spent traveling with them to places all around the world.
The family moved often due to his father's job with Delta Airlines. They lived in Oregon, Washington State, Georgia, VA, and North Carolina.
Upon graduation from Fayette County High School in GA, Eric began his career as a car and large vehicle mechanic. However, his disease made it too dangerous to work beneath the wheels of a 18-wheel and in 2011, he became disabled.
Eric made friends wherever he went. But the friend that meant the most to him was his loving wife of 13-years, Ramona Leigh Routh Spencer. They met on a blind date on October 22, 2007. Ramona knew that Eric was her other half before the food was even ordered. Their life together was anything but easy. They lost all their possessions in an apartment fire in 2011. These hardships only strengthened their love for the Lord and for each other.
Eric was preceded in death by his grandparents, Jim and Geneva Spencer, and Jesse and Ernestine Adkins. Those left to carry on his loving memory are his wife Ramona (their four legged son Zeus), his loving and adoring parents Joe and Brenda, Daniel and David (Esther), a niece, several nephews, and lots of aunts, uncles, and cousins.
A Memorial Service will be at 2:00 August 21,2021 at Grace Moravian Church, Mount Airy NC.