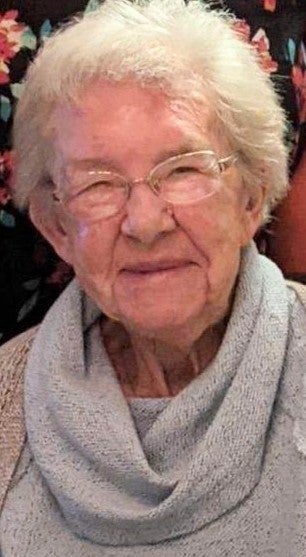 Doraine Margaret Doucette
1930 - 2021
Doraine Margaret Doucette, born August 28, 1930 in Toronto, ON, Canada, passed away peacefully on October 9, 2021 in Winston-Salem, NC. She was preceded by her dear parents, Horace Duke and Dora Margaret (Henderson) Parke, by her much beloved husband, Hubert Joseph Doucette, and by her cherished son, Brian Shawn Doucette. She is survived by her brother, Ross Duke Parke (Victoria, BC, Canada), by her three loving children, Gregory John Doucette (Charleston, SC; Terri Lynn Doucette), Roger Duke Doucette (Orono, ME; Jennifer Joy Doucette), and Sharon Ann Doucette (Winston-Salem, NC), and by her grandchildren, Evan Gregory Doucette and Kelsey Lynae (Doucette) Parker (married, Cory Parker), both of Raleigh, NC, and Sarah Lynn Doucette, Nicholas Zacharia Doucette, and Michael Joseph Doucette, all of Orono, ME.
Doraine spent her childhood years in various cities across Ontario and Nova Scotia, Canada, where she grew to love the outdoors and appreciate Nature's beauty. She also cultivated a love of fashion and worked various jobs for 'pocket money' that she could spend on clothes and other fun accessories that brought her much happiness. She married Hubert on April 7, 1956 and they started their family in Barrie, ON, Canada, and moved to Warren, OH in November, 1967, where they continued raising their children. Upon Hubert's retirement, they moved to Cortland, OH. Following Hubert's passing in 2016, she moved to Winston-Salem, NC to be closer to family, and where she spent several wonderful years and enjoyed traveling to the mountains and beaches of the Carolinas and beyond.
Doraine was an incredibly strong lady, fully devoted to her husband and children, always taking care of her family first, teaching by example, and providing a loving and fun home for her children. She and Hubert were true soulmates and enjoyed sharing their journey through life together to the fullest. She also cared about and gave freely of her time to others, volunteering in many capacities over the years, and was a supporter of the arts and music. She was truly a classy and generous lady, and a dear friend to many.
Doraine enjoyed spending time with her children and grandchildren, a nice glass of sherry, sharing a special meal with family, sunshine and fresh air, watching the birds in her daughter Sharon's backyard, and always took one day at a time. She and her kind soul and loving smile will be missed deeply by all of us.
Our family requests that any donations you might like to make in Doraine's memory be sent to either the Trumbull Art Gallery in Warren, OH, or to Trellis Supportive Care in Winston-Salem, NC. TAG is a non-profit, promoting the visual arts and artists in the local community, which Doraine actively endorsed and supported. The Trellis staff provided Doraine and our family with highly professional support and compassionate care when we needed it most.