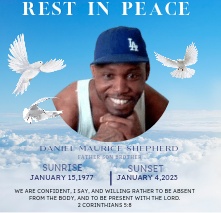 Daniel Maurice Shepherd
1977 - 2023
Today we pay our respects to our brother Daniel Maurice Shepherd.
Daniel was born to Renee S Dilworth on January 15, 1977 in Los Angeles California, he was a gentle giant who survived a rocky start in his life. Daniel LOVED his family, his Minnesota Vikings and Los Angeles Lakers. He loved to be free in the world, to laugh, make others laugh, and have fun. Daniel wasn't just a man, he was also a Son, a Brother, a Father, a cousin and an Uncle. Daniel was a man of few words, but you could feel his presence, see his warm smile and hear his goofy laugh. Even though we went down a hard road, he would always find a way to show love to all. He never let his past determine how he showed up in the present. You are loved and always will be, and I know the Heavenly Father put a pillow on your seat so you can finally rest. So rest well my brother until we meet again. Thank you for all the wonderful memories. We'll mourn the man who's gone, whom we lost so unexpectedly, but we will always remember him, and we know that above all, he would want us to remember him as our protector. Mission complete and job well done brother. Tell God thank you for choosing us to be your little sisters. Until we me again big brother. We love you. Rest easy. -(Written by Nieisha and Angel Shepherd)-
Daniel was preceded in death by his son Daniel Maurice Shepherd Jr (2009) his maternal grandparents Mildred and Herbert Dilworth; his aunt Bonnie Grace and Rita Dilworth and uncle James Dilworth; and his paternal grandparents Dorothy and Joseph Shepherd. He is survived by his mother Renee Dilworth; sisters Angel and Nieisha Shepherd; niece's Ashley Shepherd, Ganai and Ganelle Tanner and Zahara Massey; nephews Davaugntae Shepherd and Kameron Wray; Aunt's Pamela and Lottie Denise (DeeDee) Dilworth; uncles Chris and Herbert Dilworth; cousins Mildred, Debbie, Johnny, and Timothy Luchien Billy Nelson; Ted, Curtis, Chris, Tameka, Sade, Jasmine, Lloyd and Lamar Bell, Marques (cookie monster) Dilworth; Keisha,Deedee, Kenneth and Keith Fantroy and many many more who loved and will miss him. Thank you all for your sympathy and condolences, we appreciate it greatly.