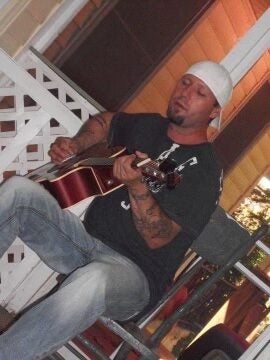 Dallas James Edwards, Jr.
1975 - 2023
Dallas James Edwards Jr, 47 of King, NC went to be with our Lord and
Savior on September 10, 2023 after a long and courageous battle with
cancer. Left to cherish his memories are his parents, Dallas Sr
and Barbara Edwards; two sisters, Michelle Troutt(Gene), Christa
Wagner; brother, Chad Edwards; grandmother Betty James(special friend
Ken); aunt Shawna Brannock(Zeke); fiance, Diane Benfield; nieces and
nephew; April Alexander(Chase), Josh Troutt, Brittany Semones; great
nephew Declan Alexander; great niece Cali Alexander. He is preceded in
death by his son Gage Edwards; paternal grandparents, Ray Edwards and
wife Mary; and maternal grandfather, Bill James.
DJ was born on December 14, 1975 in Forsyth County. To know DJ was to
love DJ. DJ had a heart of gold and a huge love for his family and
friends. He loved his son more than words can say and enjoyed all of
their adventures together. It warms our hearts to know they are united
once again. DJ deeply treasured his faithful companion, four legged
friend Ella. He was passionate about music and loved writing songs and
poems; something his family is treasuring now more than ever. Although
the family misses him tremendously, they find peace in knowing that he
claimed the ultimate victory over his cancer.
There will be a celebration of his life with family and friends at
2:00pm on September 30, 2023 at his parents house, 1067 Tom Gordon
Road King, NC 27021.