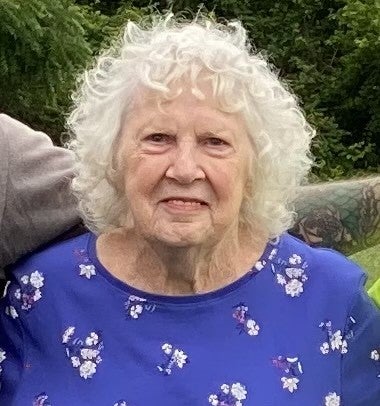 Carolyn Audrey Burch
1934 - 2023
Carolyn Audrey Burch, age 89, peacefully passed away on October 6th, 2023, at Kate B Reynolds Hospice Home, surrounded by her loving family. She was preceded in death by her husband, Robert C. Burch, nephew Bret Simmons, grandson Christopher J. Barnes, great-grandson Myles C. Whitaker, niece Kristine LeBlanc, and her parents, Harold and Frances Simmons.
Carolyn leaves behind cherished memories. In her early years, she found joy in sewing, knitting, and serving as a dedicated school crossing guard. Prior to her retirement, she spent many fulfilling years in retail, connecting with people and making new friends. Her greatest happiness came from spending time with her grandchildren, great-grandchildren, and great-great-grandchildren, who brought immense joy to her life. During her leisure moments, she found comfort in watching westerns, relaxing by a fire pit, and an occasional winery visit with her granddaughter and bonus granddaughters.
A remarkable mother, grandmother, sister, aunt, and friend, Carolyn will be deeply missed and her legacy will live on in the hearts of all who knew her.
Survivors include her Sister; Shirley Johnson, brother Harold "Hal" Simmons (Eileen), daughterLinda Morris (Jr), son William Burch (Mary), granddaughter (caregivers) Misti-Lee Terrell (Guy), granddaughter Audrey Reese, grandson Jeff Burch, great-granddaughter Samantha Faulkner, great-grandson Rhaven Luther (Breanna), great-granddaughter Charoki Luther (Brandon), great-granddaughter Macenzi Richardson fiancé Bruce Sanchez-Barkey, nieces Beverly Riordon (Gene), Beth Connors, Tracy Holden (Jamie), nephews Wayne Gatchell (Stephanie), Brad Gatchell (Stephanie), 12 great-great grandchildren, several great nieces and nephews, her bonus granddaughters Ari, Cearra, Amy, Christa, Danielle, Kandi, Elizabeth, Jennifer, Shana, Vania, & Diana, Angela.
The family of Carolyn A. Burch warmly welcomes friends and loved ones to a celebration of her life on October 22nd, 2023, from 3:00 pm to 5:00 pm at their home.
In lieu of flowers, the family kindly requests donations to be made in Carolyn's honor to Kate B Reynolds Hospice Home."